Ethernet MAC Component
The MAC component provides ethernet connectivity to the AVB solution. To use the component, a physical interface must be attached to the XCore ports to provide an 100 Mbps MII interface. The XS1 device is also capable of implementing a dual 100 Mbps interface and a gigabit GMII interface .
The MAC component supports two features that are necessary to implement AVB standards with precise timing and quality constraints.
The single port 100 MBit component consists of five threads (each running at 50 MIPS or more) that must be run on the same core. These threads handle both the receiving and transmission of ethernet frames. The MAC component can be linked (via channels) to other components/threads in the system. Each link can set a filter to control which packets are conveyed to it via that channel.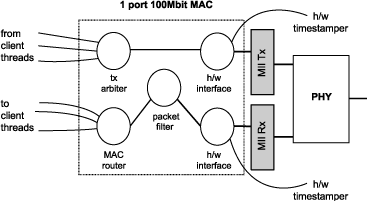 All configuration of the channel is managed by a client C/XC API, which configures and registers the filters. Details of the API used to configure MAC channels can be found in the ethernet MAC component design guide. This API is used for direct (layer-2) access to the MAC. For AVB applications it is more likely that interaction with the ethernet stack will be via the main AVB API (see Section AVB API).